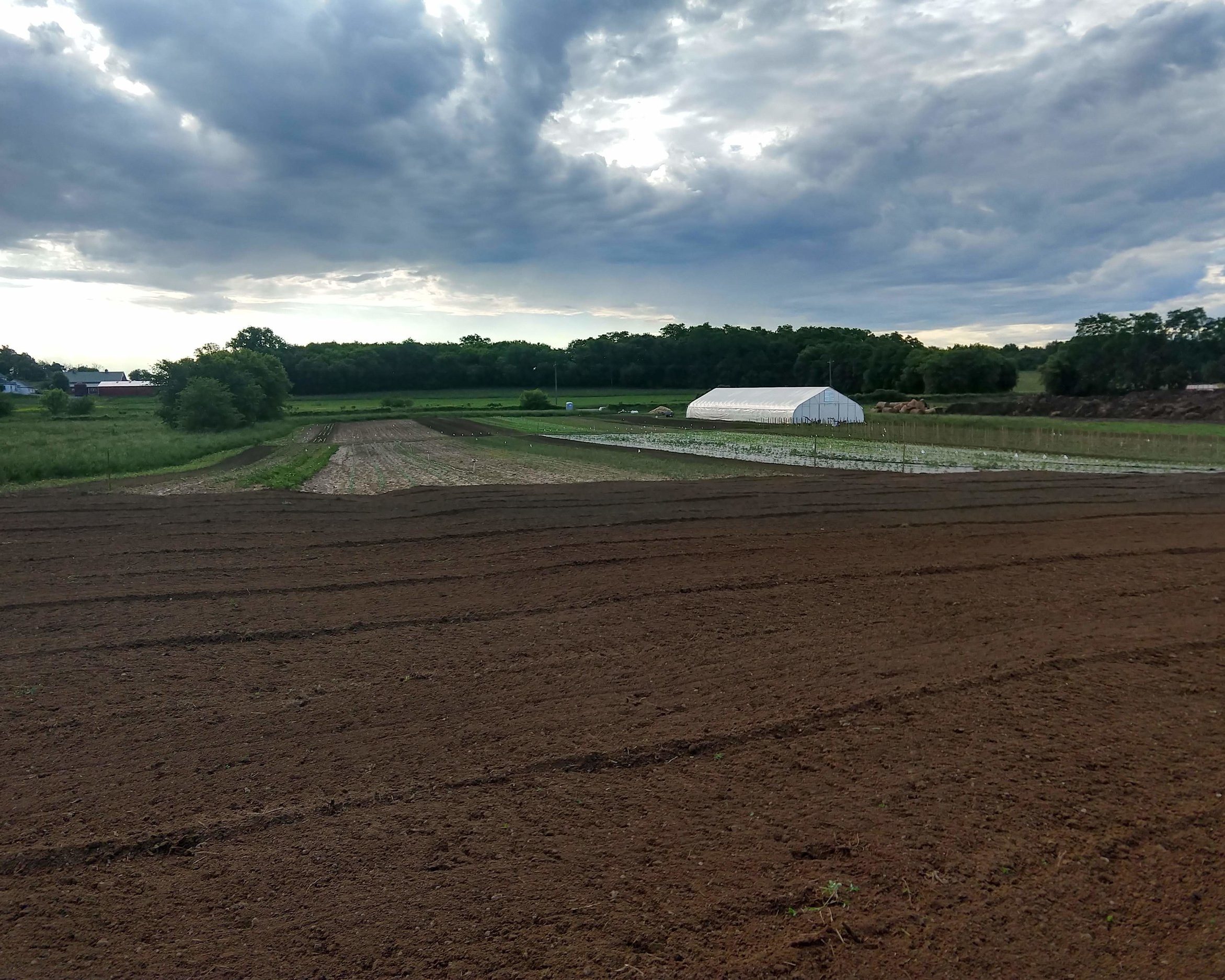 Lovefood CSA is open for enrollment!

Community Supported Agriculture (CSA) represents a connection between farmer and eater. An acknowledgement of the reality of where our food comes from. CSA is not just a buying relationship - it is a relationship with the farm itself, with the land and between the farmer and CSA member.
Lovefood CSA is a little different than most. All pick-ups occur at one of our three farmers markets. This allows us to have some time to say hi each week and gives YOU a chance to pick out some of what is in your share. A chalkboard is posted with the full list of what goes in each size share. This will be a combination of items that everyone gets, and some items that YOU get to pick. For example, everyone may get a pint of cherry tomatoes and also be able to pick their root vegetable for the week (carrots, beets, turnips, radishes).
We also offer market shares where you charge a card at the beginning of the season at a 10% discount and can use that card to purchase produce at ANY of our markets at ANY part of the season. We offer two sizes - small and large shares.
2019 CSA Shares will begin the week of June 11th and run through the week of October 15th with one week off for the 4th of July.
Farm Party
Another benefit from being part of a CSA and having a relationship with a farm is the… farm party! 2019 will our first year where we are on just one piece of land that we own! We are thrilled and can't wait to share with you the magic of this soil and landscape. The details of our farm party have yet to be worked out but we're aiming for sometime around mid-summer when the bounty is really on. More details to follow!
Health Insurance Rebates
Health insurance rebates for CSA membership are available through GHC. The total allowable reimbursement is $100 per individual or $200 per household. Quartz and Physicians Plus also offer incentives for CSA membership which work on a points basis and result in a rebate. For more information, check out this resource.
Options for Low Income Households
Lovefood is delighted to be able to accept payments with food stamps, Quest or SNAP through the Partner Shares Program at the Fair Share CSA Coalition. Low-income households may also be eligible for subsidies. Contact Partner Shares for more details - info@csacoalition.org, tinyurl.com/partnershares (608) 226-0300
Regular CSA Share
Weekly - 18 pickups - $550
Every Other Week - 9 pickups - $300
A regular CSA share is sized for two vegetable fans or a family of two adults and two kids. Expect about 8-13 varieties of produce each week! If you prefer a little less produce, this is the most popular share for splitting between neighbors and co-workers.
Small CSA Share
Weekly - 18 pickups - $300
Every Other Week - 9 pickups - $175
This share is about half the size of the regular share. Expect 8+ varieties each pickup. It is perfect for people who want fresh produce but not SO much or folks with an intense summer traveling schedule.
Market Share
Small - $90
Large $270
Market shares function like a gift card. There is no particular schedule and no prescribed share. You come to the market when you're able and purchase what you like. Very flexible share that's perfect for people who a typical CSA won't work for.